Immersion in Magical Myanmar 9D/8NAncient temples of BaganMyanmar (Burma)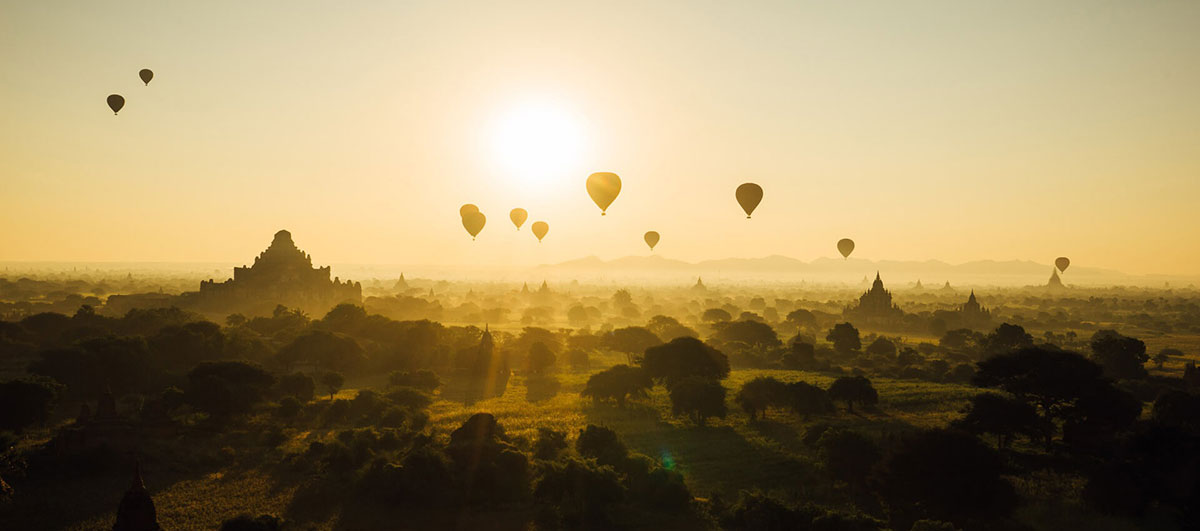 Experience Details

This is a capsule intended to give the traveller an immersive feel of Myanmar. A trip to get you upfront with beauty… Beauty both natural and man-made… Of the magical kind… From the modern charms of Yangon to the ancient temples of Bagan; from the mountain-top monastery of Mount Popa to the unique boatmen of the Inle Lake; from studying the Inthar tribes to gawking at the cultural side of Mandalay…
---
$1,500 onwards GST as applicable
Prices vary based on departure season. (Per person for a group of 2 people on a twin sharing basis)
Do you have a larger group? Your per-person cost could reduce, sometimes quite significantly. Do write to us at [email protected]
---
Itinerary in brief
---
Day 1 - Arrive in Yangon : Pagoda Urbanized
After reaching the vibrant city of joy, Yangon, go on a city tour to marvel at the colonial heritage. End the day with a magnificent sunset at the world famous 2600 year old Shwedagon Pagoda.
Day 2 - Bagan : City with History
Next stop is Bagan, a city studded with 2000 temples from ages. Explore the ancient 10000 years old shrines. Learn about the local crafts of lacquerware and looming in the evening from traditional artisans, making Bagan a favourite for ancient craft.
Day 3 - Mount Popa : Home of the Spirits
Drive down to Mount Popa, an ancient volcano kissing the sky from the flat plains of central Burma.Climb up the 777 steps to the monastery on top for a taste of silent peace and an awesome unforgettable view.Get back to Bagan in the evening for some e-biking around the ancient structures and end the day with a lovely sunset over Old Bagan and the Irrawaddy river to the west.
Day 4 - Mandalay : Grandeur Personified
Welcome to Mandalay and boat to Mingun to visit the Unfinished Magnificent Temple of Pa Hto Taw Gyi, Mingun bell and the Mya Thein Tan pagoda.Visit the Mahamuni Buddha Image, Kuthodaw Pagoda, the Shwe Kyaung and the Kyauktawgyi Pagoda.End the day with another glorious sunset at Mandalay Hill.
Day 5 - Mahagandayon : Myanmar's Biggest Monastery
Visit the Mahagandayon monastery with over 1000 monks, and proceed to Sagaing to see the KaungHmuDaw Pagoda, Sagaing Hill and the Umin Thonese. Drive on to Amarapura, to visit a traditional weaving factory.Drive to Amarapura to catch the sunset at the 200 year old U Bein's Bridge.
Day 6 - Inle Lake : Burmese Life
Reach Heho and drive to the beautiful Inle Lake nestled amidst the mountains. Get ready for a boat trip on the Inle Lake to see the MaungDaw Pagoda, Floating Gardens & Plantation, Cheroot Making, Silversmith, Cotton & Silk Hand Weaving and Nga Phe Chaung Monastery.Catch the famous leg-rowing boatmen in action on the Lake.
Day 7 - Yangon : Detour to Pagoda City
Yangon trip is incomplete without a stroll at Bogyoke market, a destination mandatory for souvenir and window-shopping. Have a tranquil walk by Inya Lake and serene sunset by Botahtaung harbour.Try some local cuisine and immerse into the vibrance.
Day 8 - Bago : Buddha and Stupas
Drive out for a day-trip to Bago to see the World War II War Cemetery, shining Shwemawdaw Pagoda, Kyaik Pun Pagoda, Shwethalyaung and the Kanbawzathadi Palace.
Day 9 - Departure : Mingalaba
Head out to the airport for the flight back home after a magical immersive experience in Myanmar leaving an everlasting imprints.
---
Request for Itinerary
[[[["field11","equal_to","1"]],[["show_fields","field8,field9"],["show_fields","field25"]],"and"],[[["field11","equal_to","2"]],[["show_fields","field14"]],"and"],[[["field25","equal_to","1"]],[["show_fields","field22"]],"and"],[[["field25","equal_to","2"]],[["show_fields","field22"],["show_fields","field23"]],"and"],[[["field25","equal_to","3"]],[["show_fields","field22"],["show_fields","field23"],["show_fields","field24"]],"and"]]
keyboard_arrow_leftPrevious
Nextkeyboard_arrow_right
---
---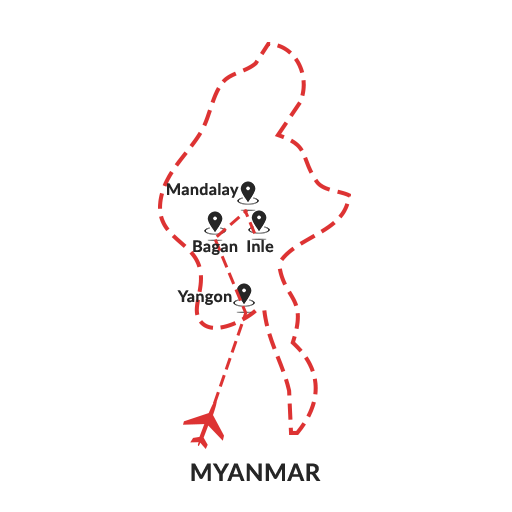 ---
Recommended Experiences
---