Italy- Coastline & Volcanoes 12D/11N Beaches, volanoes & moreItaly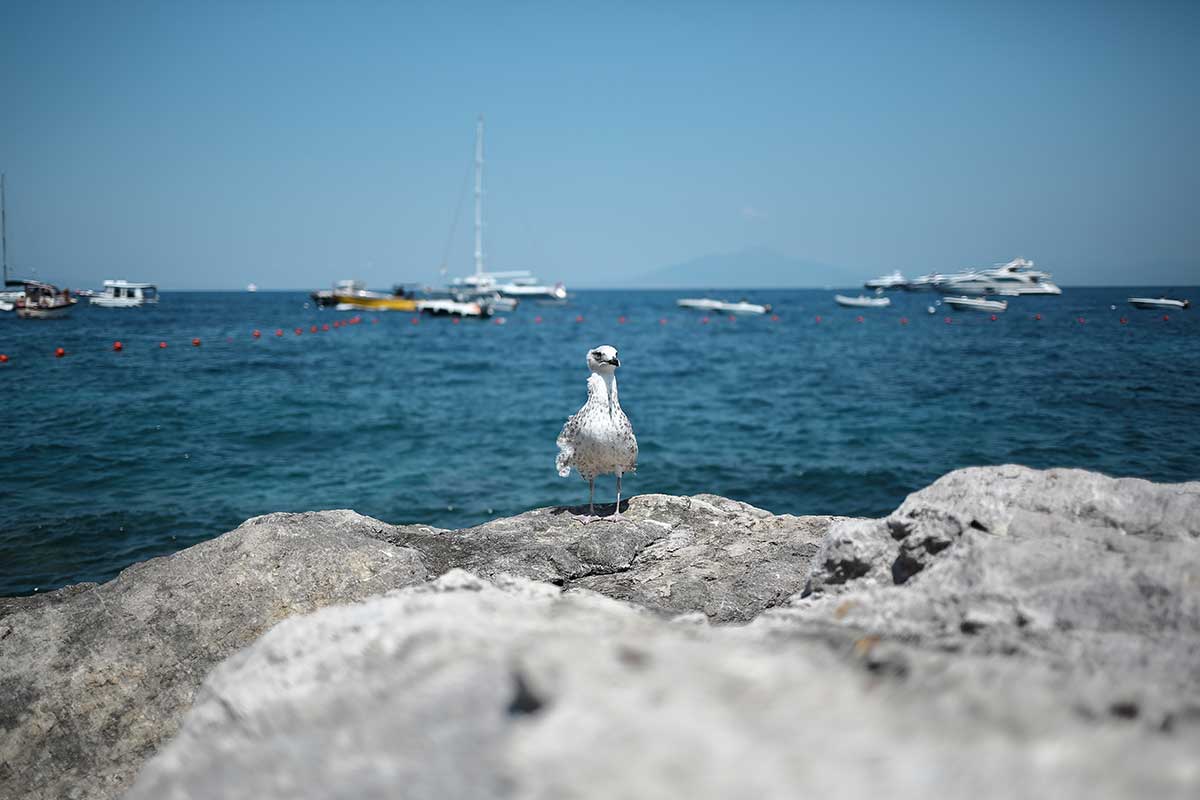 Experience Details

Italy, the birthplace of Renaissance, the epicenter of the Roman Empire, a place where many Shakespeare plays were set in. Italy has been a part of our lives in one form of the other, be it history, literature, or the very popular pizza and pasta. There is more to Italy than what we have always read, talked about or experienced.
---
$2,435 onwards GST as applicable
Prices vary based on departure season. (Per person for a group of 2 people on a twin sharing basis)
Do you have a larger group? Your per-person cost could reduce, sometimes quite significantly. Do write to us at [email protected]
---
Itinerary in Brief

---
Day 1 - Rome
Arrive in Rome and walk around the city dotted with cathedrals and museums.
Day 2 - Rome: Exploration
Explore the city of Rome starting from the Piramide, the Mouth of Truth, Circus Maximus, the Baths of Caracalla, the Colosseum, Santa Maria Maggiore, Republic Square, and more. Overnight stay in Rome.
Day 3 - Sorrento: Naples Bay
Take a train to Naples and drive to Sorrento, a city known for its sea and mountains that make for a beautiful landscape. Try Limoncello, the most famous alcoholic beverage of Sorrento.
Day 4 - Capri And Anacapri: Island Hopping
Take a boat ride to the magical island of the Sirens inspiring artists from aeons. Explore the beautiful island town called Anacapri. Visit the Blue Grotto sea cave. Overnight stay at Sorrento.
Day 5 - Amalfi Coast: Europe's Coastline
The Amalfi Coast is one of the most spectacular coastlines of Europe with winding roads, surrounded by rocks. Visit the 13th-century Cathedral and Villa Rufolo. Overnight stay at Sorrento.
Day 6 - Pompeii: Emerged from Ash
Drive to Pompeii. Once a thriving and sophisticated Roman city, Pompeii was buried in meters of ash and pumice after the catastrophic eruption of Mt. Vesuvius making it one of the most compelling archaeological sites of Europe. Drive further to Sicily. Overnight at Sicily.
Day 7 - Taormina: Craters and Volcanoes
Drive to Etna, the highest peak of Sicily and the most active volcano in Europe. Drive further to the "Silvestri Craters". Drive towards Taormina, a town perched on the side of a mountain, with medieval churches and a stunning Greek theatre. Overnight at Taormina.
Day 8 - Taormina Mare: Preserved Heritages
Noto, the jewel of Sicilian Baroque, is in the UNESCO world heritage list for its beautiful Baroque churches and "palazzi". Explore the main monuments of the cathedral, the Santa Chiara church, Palazzo Ducezio, and the Via Nicolaci. Take a guided tour at the archaeological site of Syracuse. Overnight in the Taormina area
Day 9 - Taormina Mare: Gem of Sicily
Located just 20 meters from the sea this is great for an idyllic day. Get walking and have fun at the beach, taking in a plunge or sunbathe under Italy's abode.
Day 10 - Civitavecchia: Overnight Cruise
Explore Castelbuono, a 14th-century charming town around the castle built by the Ventimiglia family. Drive further to Cefalù and explore the lovely medieval town and its famous cathedrals and monuments. Get on board a ship at the port of Palermo and enjoy the overnight cruise to Rome
Day 11 - Civitavecchia: Port City
Arrive at Civitavecchia port in the morning and visit the port city's monuments. Reach Rome and take time out for last minute souvenir shopping.
Day 12 - Departure: Addio!
Get transferred to the airport for your flight back home.
Inclusions & Exclusions
---
Inclusions
---
Accommodation with breakfast (3 Star in Rome and 4 Star in Sorrento, Taormina and Sicily)
Overnight cruise from Palermo
Excursions: Etna/Taormina, Noto/Siracuse, Castelbuono/Cefalu
All transfers in Italy
---
Exclusions
---
City Tax, Meals not mentioned in the detailed itinerary
Entry fees to museums or archaeological sites; optional excursions, and any other expense not mentioned in the detailed itinerary
Taxes, as applicable
---
Request for Full Itinerary
[[[["field11","equal_to","1"]],[["show_fields","field8,field9"],["show_fields","field25"]],"and"],[[["field11","equal_to","2"]],[["show_fields","field14"]],"and"],[[["field25","equal_to","1"]],[["show_fields","field22"]],"and"],[[["field25","equal_to","2"]],[["show_fields","field22"],["show_fields","field23"]],"and"],[[["field25","equal_to","3"]],[["show_fields","field22"],["show_fields","field23"],["show_fields","field24"]],"and"]]
keyboard_arrow_leftPrevious
Nextkeyboard_arrow_right
---
---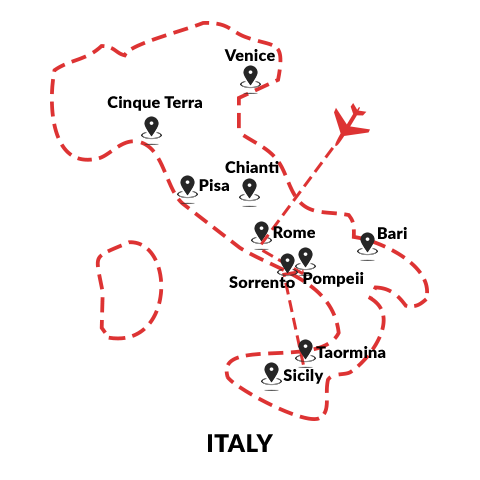 ---
Recommended Experiences
---

Greece